Connection Management
MANAGE YOUR SMS / MMS CONNECTIVITY THROUGH A SIMPLE USER INTERFACE.
The Lark Router decouples a businesses SMS and MMS connection management from their business applications allowing them to manage many connections from many SMS suppliers (CPaaS, Aggregators, ASP, Carriers), test and make changes at any time without requiring a developer to update their code. The Lark Router enables businesses to manage and monitor the connections between their internal systems, business applications and customer facing applications to their SMS suppliers and enables SMS suppliers offer simpler ways for businesses to connect to them.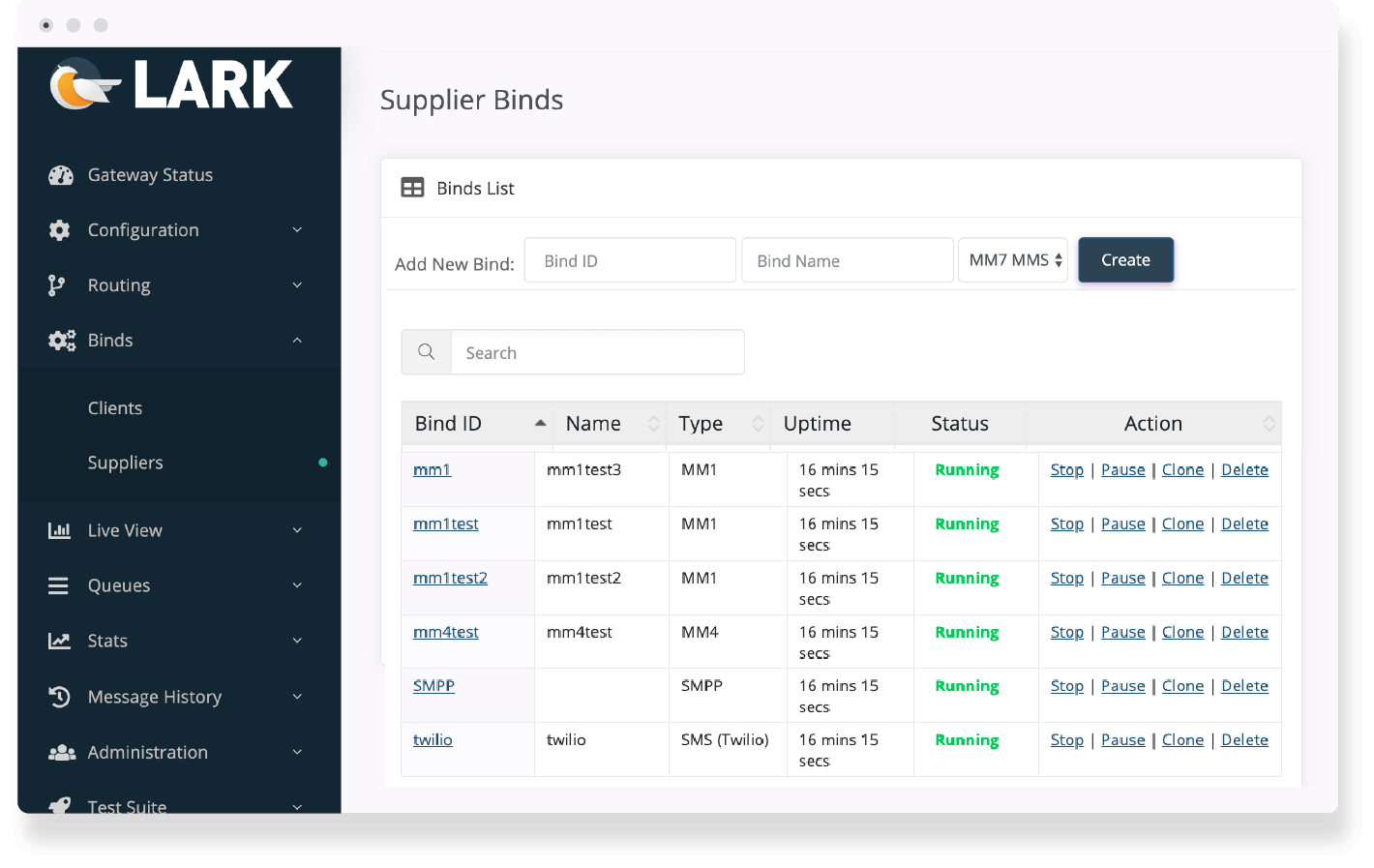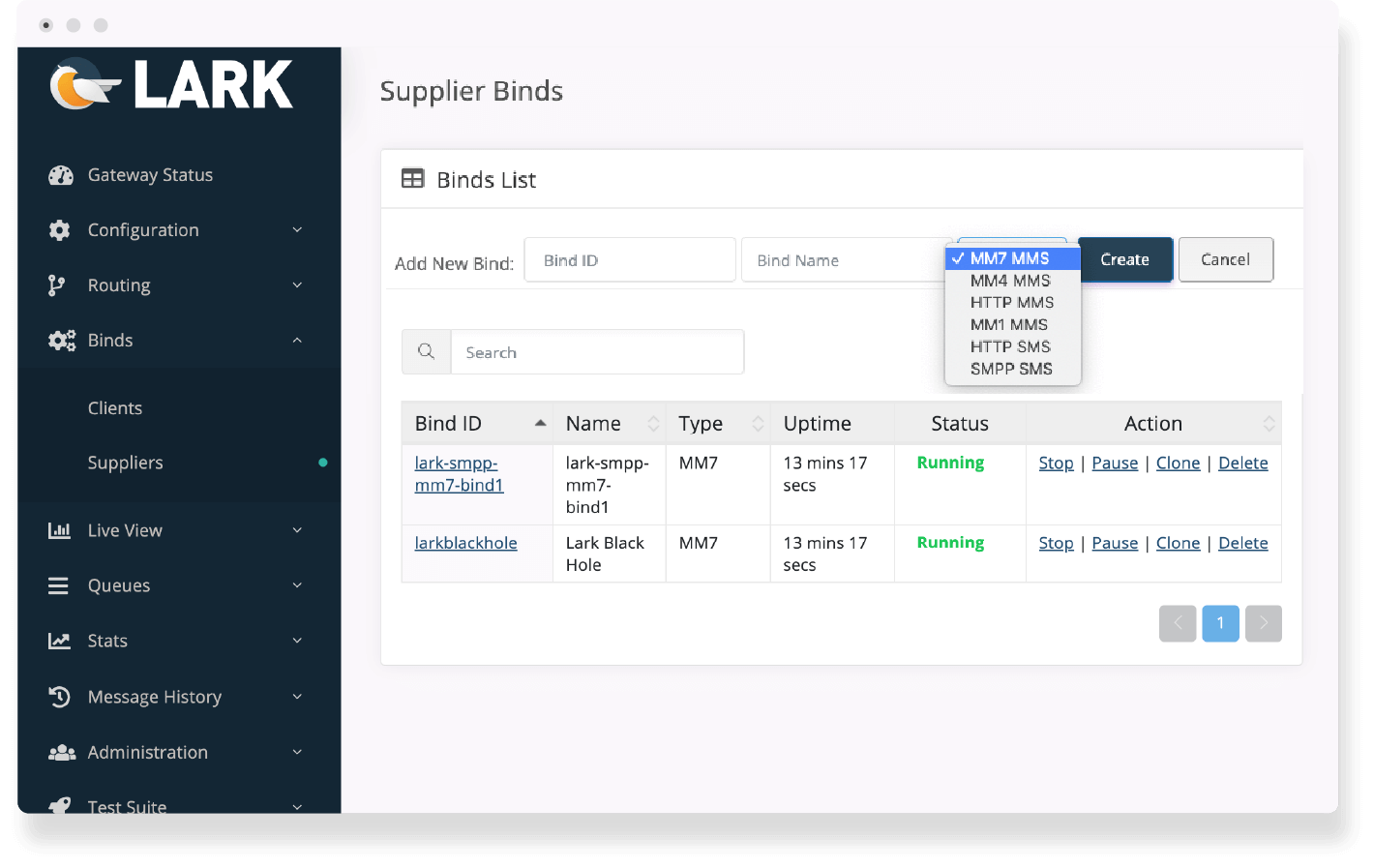 Protocol Conversion
CONVERT SMS / MMS MESSAGES TO ALL STANDARD AND MOST PROPRIETARY PROTOCOLS AND API'S
The Lark Router enables the automatic conversion of messages between standard SMS protocols like SMPP and various proprietary SMS API's. It also enables the automatic conversion of messages between standard MMS protocols like MM7 and MM4 and proprietary MMS API's. The Lark Router enables its customers to integrate with various SMS suppliers with a single integration.
Intelligent Routing
DEFINE MESSAGE ROUTING RULES IN THE UI OR USE A WEBHOOK TO YOUR OWN CARRIER LOOKUP.
Lark Router customers can program their own routing rules using standard JSON webhooks. They can query their own number lookup provider to determine what SMS supplier they should send messages to. If they do not want to develop code to program their routing rules then they can manually setup rules based on the country code of the message recipient. For example, a business may want to use different SMS suppliers to delivery messages to different countries.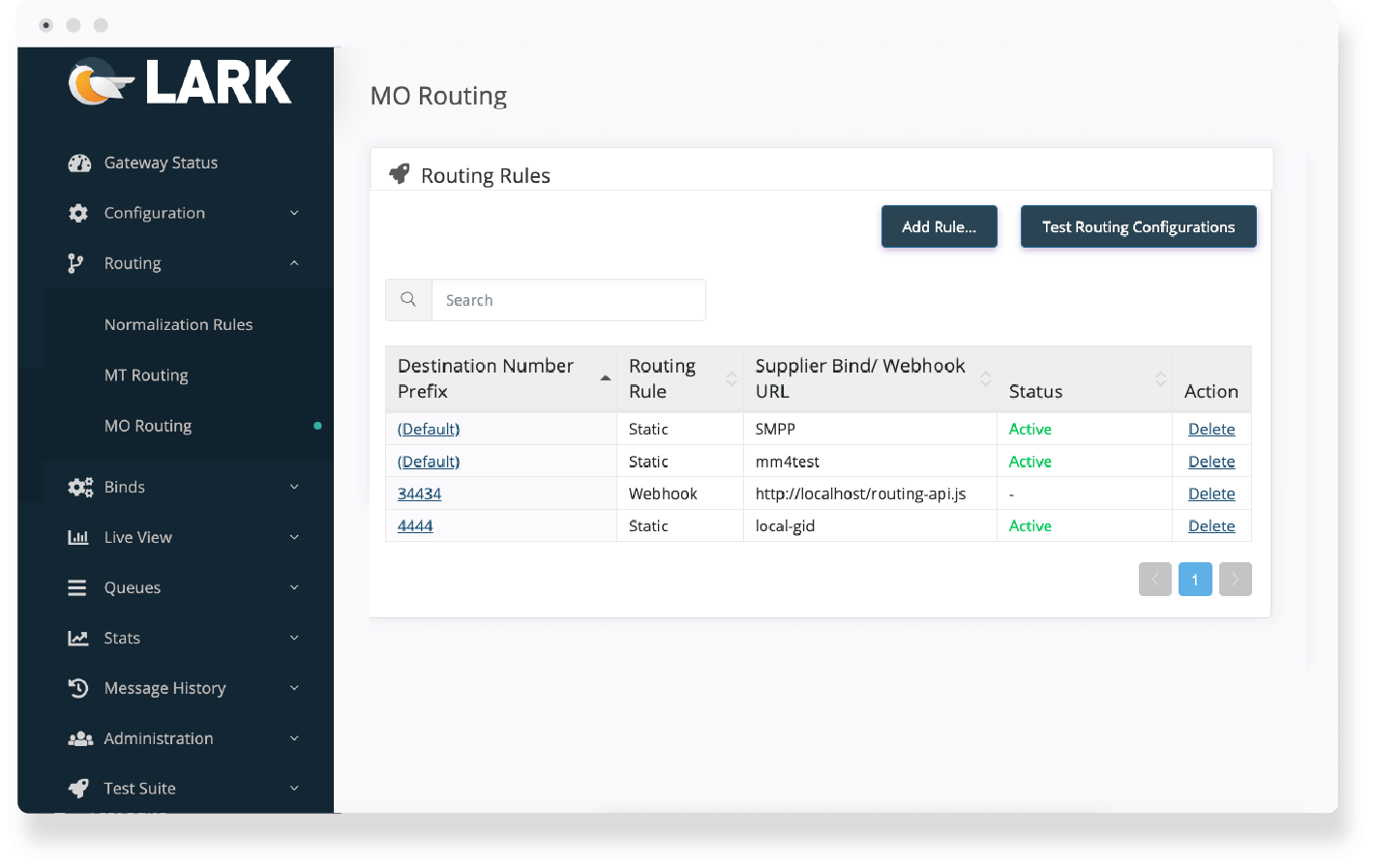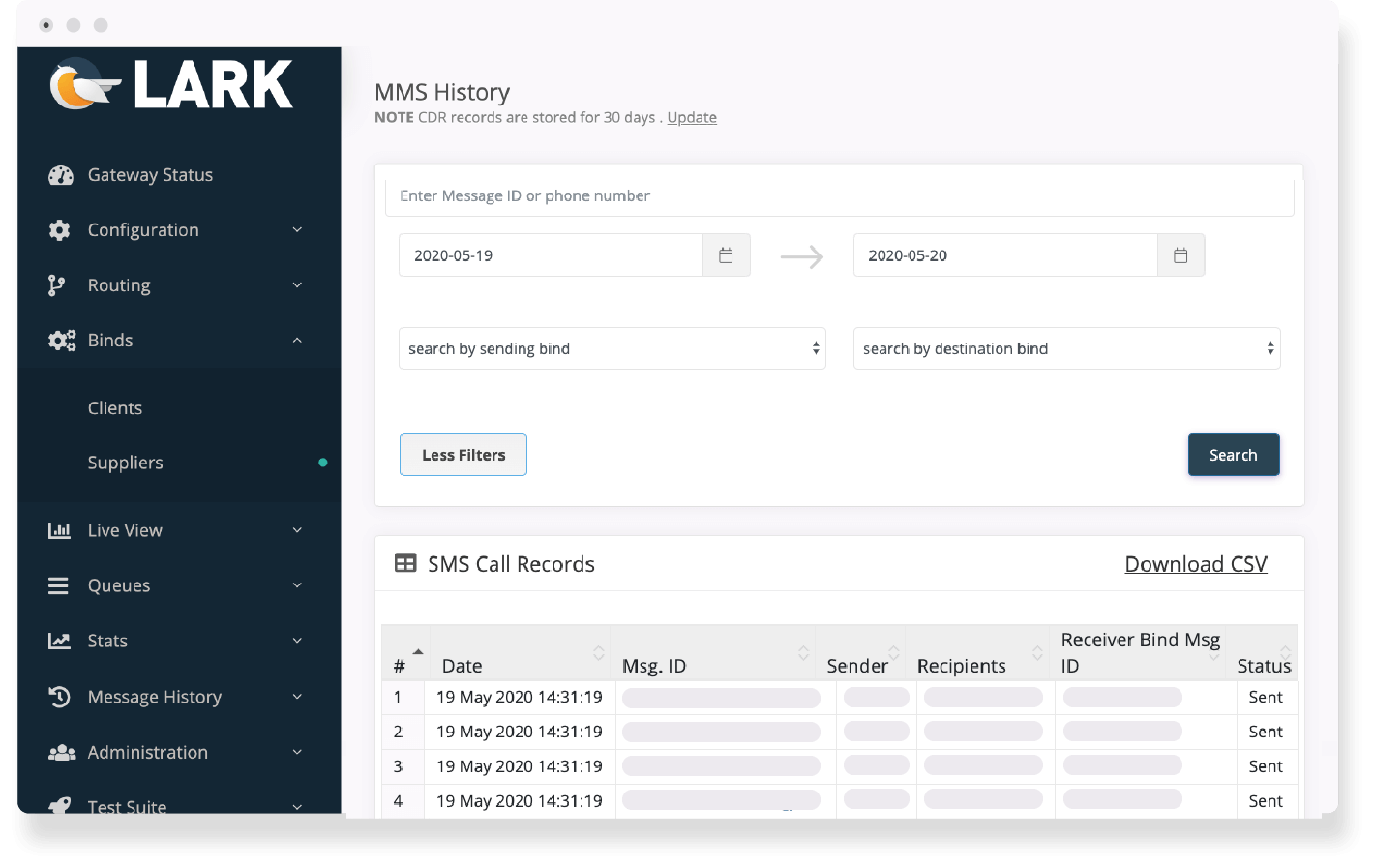 Unified Reporting
REDUCE SUPPORT TIME BY SEARCHING SMS / MMS MESSAGE HISTORY AND LOGS FROM A SINGLE INTERFACE.
Rather than developing internal systems to log, trace and search message delivery reports your team can rely on Lark Router to make this information available through a administrative user interface. The Lark Router will normalize the message history and delivery status fo all messaging connections and protocols. If you want to store messaging history data in another system, Lark Router can call a webhook with CDR information.
Connection Monitoring
MONITOR SMS / MMS MESSAGE QUEUES, THROUGHPUT, ERRORS AND UPTIME FOR EVERY CONNECTION.
Businesses should not wait for their customers to report message delivery issues. If your business depends on text messaging to communicate, your business should monitor all of its messaging supplier connections, internal message queues, throughput, errors as well as message deliverability. You can connect the Lark Router monitoring system to a 3rd party tool like Nagios or you can monitor your messaging from the Lark Router monitoring UI.